Browser Issues and Page display
Bad page display? - Get a better Browser!


Get a new mainstream browser that complies to the W3C standards for CSS and JavaScript.
- Please see the Browser jump menu in the left navbar, or links at the bottom of the page.
Web Page layout and Browsers.

Web page layout differs from traditional print publishing. Web pages have two main differences.
- 2 horizontal size models: Fixed width, where the content is displayed at a set width. Relative width, where the content reflows to fill the width of window, when it is resized.
- 3 page layout structure models: Tables, are a sort of standard table rows and cells. Frame sets, shares the browser display window between more than one html page. CSS (Cascading Style Sheets), the newest one, at last gives the web site developer a precise positioning control, almost as good as in regular print publishing.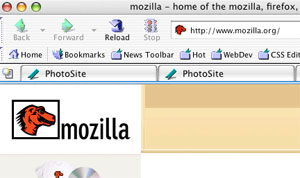 CSS only!
CSS page building - see CSS at W3C - is used for laying out the page structure of this web page. No tables or frames. Besides the basic html, and CSS, there is only a few JavaScripts used in the jump menus.
_________________
Browser support.
Some internet browsers have bad, or lacking, support for CSS. CSS, The Cascading Style Sheets are used to build the structure of this site. Some earlier browsers may also have bad, or lacking support for JavaScript.
Known browsers with problems are Netscape Navigator 4.x, and earlier versions of Opera and Microsoft Internet Explorer.
Why?
This is because some browser developers do not pay attention to the W3C standards and suggestions. The W3C - World Wide Web Consortium are the main authority on web coding standards, providing guidelines. These are for the benefit of a standardized internet evolvement.
- Most browser developers comply to the W3C standards, in their newer versions.
Old browsers:
If you encounter problems with the display of pages, chances are you have an old version of the browser you use. You are then encouraged to update to the latest version.
New browsers:
There might be a few new/newer browsers that do not comply to the W3C standards too. If you use one of these, we suggest you change to another browser brand.
- Opera 6.0.3 build 1145, for Macintosh have pretty bad CSS support!
Please see the left navigation bar for links to an assortment of new browsers.
Or in case your browser do not support JavaScript jumpmenu, we also supply the links here.

New Browsers: Mozilla 1.6 | Netscape 7.1 | Internet Explorer | Opera

Company | Site Map | Privacy policy | Contact us
©2004 Formdesign | Webdesign: Formdesign